Stay Active and Safe During Shelter-in-Place
Click here to check out related resources to help you stay active, healthy, and safe.
A group of local students from Kennedy Middle School have been working on a design prototype for a new, safer helmet, which they are calling a Smart Helmet. It has several very useful features that would be beneficial to keeping cyclists of all ages, including...
read more
Cupertino's plans to make the city safe for all of its cycling residents are now truly moving forward. The first phase of the McClellan Road separated lanes were completed in Fall 2019, some bike boulevards have been installed, the Regnart Creek Trail was approved and...
read more
........ We are also practicing social distancing and only making essential trips, like grocery runs every so often.........You'll be happy to hear that my two older kids are big enough now to ride their bikes for longer distances, so we've been riding a segment of...
read more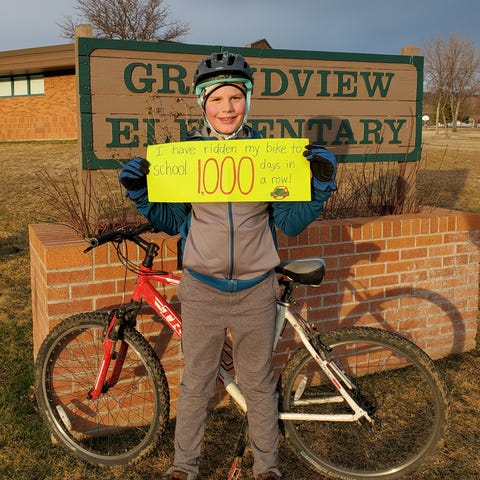 BY JORDAN SMITHApr 3, 2020 Bodhi Linde, an avid cyclist, has been riding his bike to school every day since kindergarten. So when his school switched to online learning because of the COVID-19 outbreak, threatening to get in the way of him reaching the...
read more
Weekly Wheeler Your weekly source of biking tips and encouragement. "When the spirits are low, when the day appears dark, when work becomes monotonous, when hope hardly seems worth having, just mount a bicycle and go out for a spin down the road, without...
read more
Full article link: https://blogs.webmd.com/webmd-doctors/20200410/is-6-feet-enough-distance-when-walking-and-running A group of Dutch and Belgian researchers have started looking into that question. Using simulations, they evaluated the slipstream of walkers, runners,...
read more
Our email newsletter is published approximately 6 times per year, and notifies you of upcoming events, news, and ways to get involved! We do not share your email address with any other entity.
Click here to learn about the over $9M in city bike-ped projects that have been committed since the start of Walk-Bike Cupertino.
Click here to see local maps and residential data so you can plan your routes and be better informed.
Click here to see safety tips, accident data, and more to keep you and your family safe while riding or walking.
Click here to see information about our local organizations that we work with to make it safer and easier to walk and cycle.
Click to read consolidated news by Google learning the latest development and movement about "bicycles".